Test Preparation: KUUMAT (BBA/BBIS/BHTM)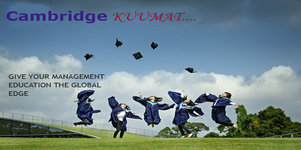 KUUMAT stands for Kathmandu University Undergraduate Management Admission Test (KUSOM). The test is produced by Kathmandu University and is administered by Kathmandu University School of Management. KUUMAT is the first phase test for students willing to study at Kathmandu University in management programme. The main purpose of this KUUMAT test is to select best candidates for management studies at KU. Passing KUUMAT test proves your eligibility for admissions at KUSOM.
KUUMAT Component:
· Verbal Comprehension 3 papers (sentence correction, critical reasoning and reading comprehension)
· Quantitative Assessment (two papers on problem solving, and one paper on data sufficiency)
· KUMAT is a pencil and paper based written test. The test consists of multiple choice questions.
Course Duration: 6 weeks
Class: 7 days
Daily Tests: 40 (based on KUUMAT)
Model Test: 5 (based on KUUMAT)
Why Cambridge:
· Experienced faculty
· Daily Mock test
· Open Group Discussions
· Interview Skills, Presentation skill and personality development classes
· Ample set of past question and daily mock test
· Free materials and books (soft Copy)